Structure and stability of silica sol
---
---
Silica sol is a dispersion of nano silica particles in water or solvent. Silica sol is widely used in CMP polishing fluids, special coatings, papermaking, textiles, precision casting, refractory materials, catalyst carriers, precision ceramics and other fields.
Silica sol is a thermodynamic unstable system with huge surface free energy (such as a silica sol with a particle size of 10nm with a specific surface area of 270m2/g). The silica sol system contains a large number of hydrated ions, so particles tend to aggregate with each other to reduce surface energy. Therefore, silica sol stored for a long time may become gel.
The reason why silica sol can remain stable for a period of time is due to its double layer structure. The structure of silica sol particles is shown in the following figure.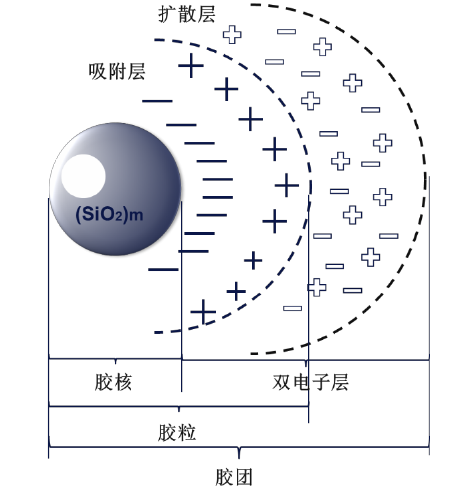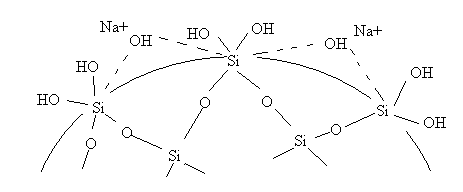 The silica sol particles contain a large amount of siloxane bonds (Si O-Si -) inside, which is an amorphous silica structure; The surface of silica sol particles is covered with silicon hydroxyl groups (Si OH), which form a diffusion double electron layer together with alkali metal ions such as sodium ions and potassium ions. Electrostatic repulsion occurs between particles due to the same charge, which is a key factor for the stable existence of silica sol. In addition, external Brownian motion and solvent barrier are also factors that make silica sol stable.
There are many factors that affect the stability of silica sol, including electrolyte, temperature, concentration, and particle size. The smaller the particle size and larger the specific surface area of silica sol, the greater its surface energy and lower its stability. Once the silica sol forms a gel, it cannot be reduced by heating or adding solvent, so the formation of gel from silica sol is irreversible.
---